Columbia River Knife & Tools (CRKT) is based in Tualatin, Oregon. It was founded by Paul Gilespie and Rod Bremer. Gilespie and Bremer both developed their expertise in the knife manufacturing field while working for Kershaw Knives. They left Kershaw to found CRKT in 1994 with Pete Kershaw's support and best wishes. CRKT truly took off and assured its future with the introduction of their KISS (Keep it Super Simple) knife in the 1998 Shot Show. The KISS knife, a small folder designed by Ed Halligan, was sold out within the first opening of days the Shot Show. They sold 4-5 times the products original production numbers and had to triple their production efforts to keep up with the demand.
The company produces a wide range of fixed blades and folding knives, multi-tools, sharpeners and carrying systems. CRKT has collaborated with many well-know custom knife makes: Ken Onion, Harold "Kit" Carson, Allen Elishewitz, Greg Lightfoot, Michael Walker and the Graham Brothers to name a few. Though based in the USA many of their products are produced overseas in China and Taiwan. CRKT products are covered by exceptional warranties.
If you're looking for a good budget knife, a CRKT knife is a great choice.  For its price range, a CRKT knife is definitely a knife not to overlook! Might I recommend a few CRKT spring assist knives. Note: All these knives retail between $69.99 and $99.99. You can find great deals on  CRKT knives and more at BladeHQ.com.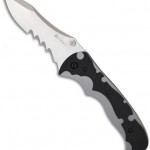 The CRKT My Tighe is an affordable production knife of the popular Brian Tighe custom frame-lock folder. It has an uniqe blade that features asymmetrical spine facets, high-hollow grind and deep belly with re-curve. A frame-lock folder, this knife features a removable black Teflon-plated pocket/gear clip. The My Tighe knives have the OutBurst™ assisted opening mechanism, which instantly springs the blade fully open after you have opened the blade 30 degrees; and dual ramped thumb studs allow the My Tighe to be quickly opened with either hand.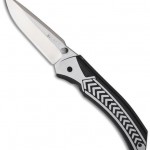 The CRKT Lift Off 2 knife is for those who want a bit of style and shine in their personal carry. The Lift Off 2 features an InterFrame build with stainless steel liners, one locking, with textured black Zytel scales.The AUS 8 stainless steel blade is a satin finished modified drop point design with a notched and swedged top edge and a high hollow grind. You can choose from a plain blade or a partial serrated blade.
The Lift Off 2 utilizes CRKT's OutBurst assisted opening with their patent pending Fire Safe mechanism. When closed, the blade is safely locked by the Fire Safe pin. It cannot be opened until the safety button on the end of the thumb stud is firmly depressed and the thumb stud is nudged outward. Just press and nudge for instant lift off. Caution: When closing the knife, always press firmly to fully close the blade, and be sure the Fire Safe pin locks into place securely with an audible "click".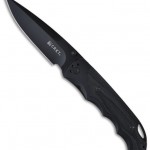 The CRKT Fire Spark is a heavy-duty tactical folder built for law enforcement and military professionals, although it also makes a fine general-purpose sport and work folder for those who want to carry a larger knife.The Fire Spark combines CRKT's OutBurst® assisted opening with their Fire Safe™ mechanism for reliable, safe and solid performance. The blade is locked by the Fire Safe pin and locks firmly open via the InterFrame build with a stainless steel liner lock.  The Fire Spark features a CNC machined 6061 aluminum handle with a G-10 scales and four finger grooves for superior grip. The blade on the Fire Spark is a modified spear point design with a razor sharp edge, high hollow grind and swedged top edge. The Fire Spark includes a 3-way reversible pocket clip for ambidextrous use.
Finally to maintain lockup in high-stress situations CRKT added the LAWKS® safety, which effectively converts the folder into a virtual fixed blade when the LAWKS lever is pressed forward.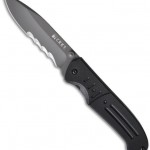 The CRKT Ignitor is a value-priced spring assist folder that features the Outburst assisted opening mechanism and Fire Safe. The Ignitor T 6860 features a dark gray titanium nitride coated 8Cr14MoV stainless steel blade with high hollow grinds and Veff serrations (You can get a plain blade instead). The handle is comprised of textured black G10 scales over a strong InterFrame with stainless steel liners. The pocket clip is set for right hand tip-up carry.
CRKT offer sleek style, affordability and quality for the price. A great buy for those looking to spend under $100.
The video below shows you how to open your CRKT knife with their Fire Safe mechanism.