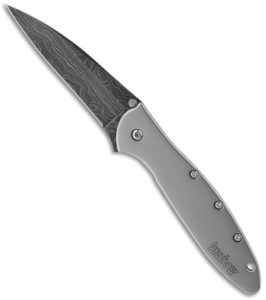 If you've spent much time at all browsing around for a new spring assisted knife, then you've probably seen lots of names of different technologies thrown around, like SpeedSafe or OutBurst, but you might not know what they are exactly. Even if you know what these technologies basically are, it's easy to get them mixed up and to forget which assisted opening technology goes with which company.
I thought it might be useful to break down some of the more common assisted opening mechanisms to help you visualize which companies invented which mechanisms. If you don't see a particular mechanism listed below, I probably couldn't find much information about it online. At the bottom of this post I did list some of the mechanisms that I couldn't find much information on but that are clearly claimed by companies.
Assisted Opening Mechanisms
SOG Assisted Technology (S.A.T.)
S.A.T. is used in SOG's stellar spring-assisted knives. In SOG's words, this technology "works through the balance of opposing high-tension coil springs. As you initiate the opening action, the force propelling your blade open becomes greater than the force keeping it closed." Once the blade opens far enough, the blade deploys with automatic-like action.
Kershaw Speedsafe
You've probably seen Ken Onion's custom knives in addition to his designs that have been produced by big-name brands like Kershaw and CRKT, but he also originally designed Kershaw's SpeedSafe mechanism. Who knew? The SpeedSafe mechanism utilizes a torsion bar to deploy the blade.
CRKT OutBurst
CRKT's OutBurst opening mechanism deploys the blade once it has been opened at least 20-30° with the help of the thumb studs. In CRKT's words, "A long torsion bar engages a cam on the internal portion of the blade. The cam is ground so that when the blade is closed, the spring provides bias to keep it closed."
Benchmade Nitrous
Benchmade's Nitrous assisted mechanism uses two torsion bars that extend the length of the handle liners. The torsion bars are securely stationed in place with the help of the tang of the blade. Once the blade is opened far enough, torsion bars take over and deploy the blade. The Nitrous system requires the blade to be opened slightly further than other systems (at least 30°), which Benchmade says gives user added control when using the knife.
(From what I've seen, it looks like H&K also uses the Nitrous assisted opening system.)
Additional Assisted Opening Mechanisms
Buck – ASAP Opening Technology
Camillus – Robo Power
Gerber – Forward Action Spring Technology (F.A.S.T.)
Smith & Wesson – M.A.G.I.C.
These are the more common spring assisted mechanisms I found, but that doesn't mean that others don't exist. Many of these technologies are very similar to each other with slight differences, but they all work extremely well. Spring assisted technologies are great because they match the speed of automatics, but they are typically legal in more areas than automatic knives. Do you have a favorite assisted opening mechanism? Tell us all about it in the comments section below!
If you're in the market for a new spring assisted knife, be sure to head over to Blade HQ for a great selection!